Tools
Why Linear and Shortcut are the best Jira alternatives
Linear and Shortcut offer streamlined workflows and sleek UI. Linear is fast and loved by startups, while Shortcut offers integrated documentation and collaboration. Both are affordable with free plans. These alternatives offer a refreshing change from Jira.
Over time, Jira has become one of the best and most popular project management tools and one of the most loathed products ever. I admit that I was also a big Jira fan at first, but over time, I grew to dislike it more and more.
What's wrong with Jira?
Jira is often too slow and complex, with a cluttered user interface and management overhead. Some companies employ people full-time to administer Jira and other Atlassian products. Go figure; it's that complex.
At the same time, Jira is quite powerful and has many options. This is what makes it so popular, but also why many don't like it.
What I don't like about Jira is bad UI/UX. I use it each day, but there are better options. Atlassian themselves have also understood that, and they are trying hard to improve their products daily.
Jira alternatives
There are two alternatives to Jira that I can wholeheartedly recommend. Both are fast, with sleek UI and good UX, and are a joy to use. Welcome, Linear and Shortcut!
Linear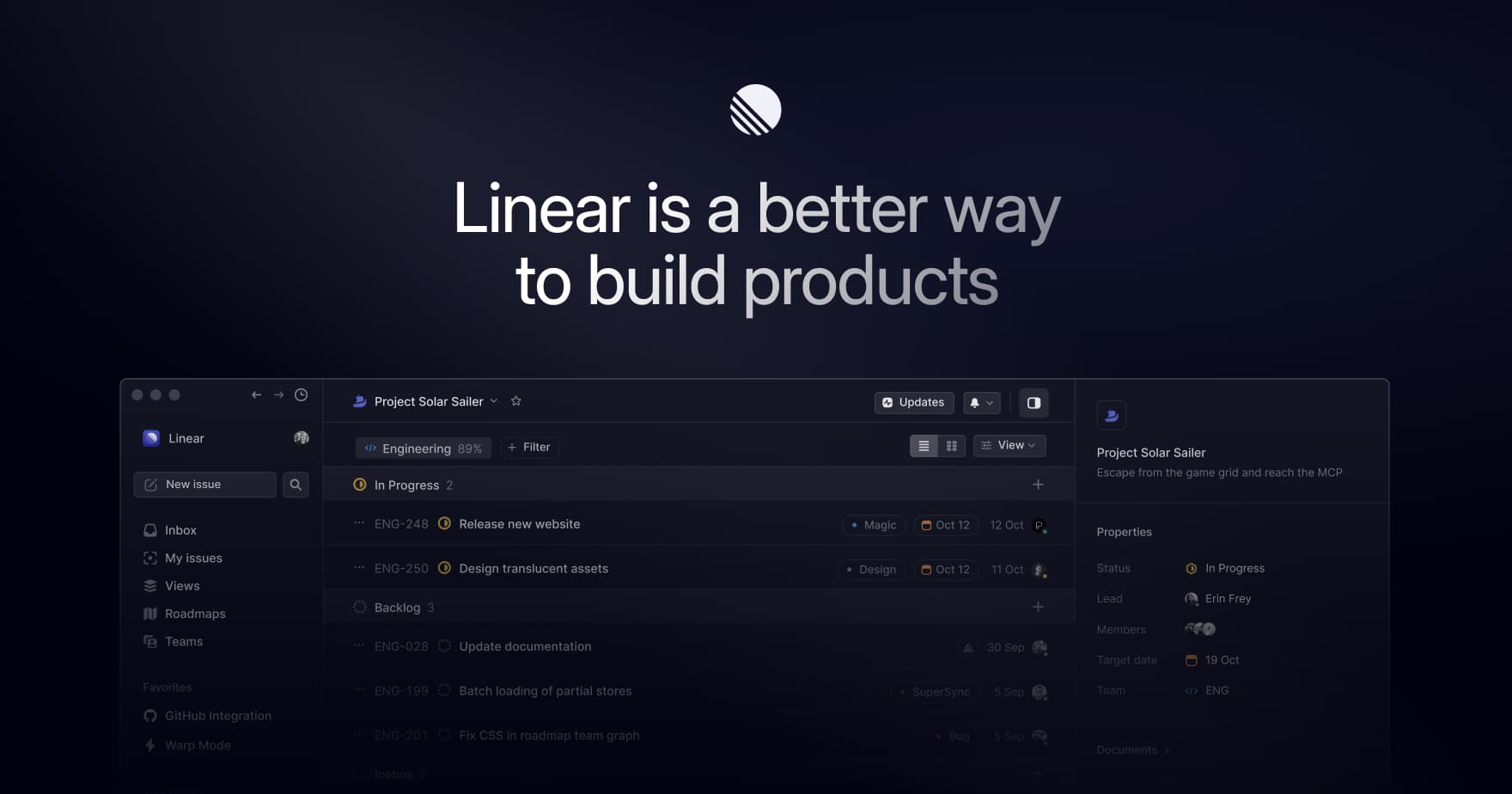 When you first open their website, you will be greeted with a screenshot that gives you a quick overview of the UI and features.
Linear looks great and is one of the fastest apps I have ever used.
Linear is loved by startups, established companies, and everyone in between. Their website features an impressive list of companies who use Linear - wow!
But I wouldn't recommend Linear if I haven't tried it first. Unlike most tools that revolve around user stories, Linear differs. The company behind Linear has come up with a Linear method,
At Linear we believe software can feel magical. Quality of software is driven by both the talent of its creators and how they feel while they're crafting it. - linear.app
Here's the list of the features I like most about Linear:
Great UI/UX; you just have to try it yourself
It feels very fast, both with keyboard and/or mouse
Integrates with many existing tools
Configurable workflows (per team)
Cycles (iterations), roadmaps, and estimates are optional
Awesome filtering
There are many features, but UI never feels too cluttered like Jira and doesn't slow down.
Pricing is affordable and comes with a generous free plan. Just try it, and maybe you'll change your mind. You can even import your Jira issues.
Shortcut (formerly Clubhouse)
Before Clubhouse became a popular (does anyone use it anymore?) social media app, there was software of the same name. Shortcut decided to rebrand and make it clearer for new (and old) customers. You don't want to mistake a project/product management app for a social media app.
Shortcut unites planning and development into a single experience with tightly integrated Docs, Issue Tracking, and Sprint Planning features. - Shortcut.com
Shortcut came to be as a Jira alternative, faster, better, and easier to use. It has many features you would expect from Jira and is more powerful and feature-rich than Linear.
I don't want to say Shortcut is better, but it packs more punch. Some might like this, others not.
Some of the awesome features of Shortcut:
Good UI/UX
Docs, powerful, integrated documentation and collaboration
Roadmaps, sprints, and reports
Good filtering
Workflows
Just like the Linear Method, there is The Shortcut Way.
Pricing is very similar to the Linear, but Docs could be a feature that could win many people over.
What to choose?
Both Linear and Shortcut are fantastic products. I'm not sure if I could choose one over the other.
Shortcut can be used as a one-stop shop for project management and documentation.
On the other hand, Linear could be better in this respect, and it would be best to pair it with Slite or Notion.
In the end, it will come down to personal preferences. You won't go wrong with either.